Back in November Barbour ABI took a snapshot of the various UK construction markets and spoke to Steve Wignall, MD at Imtech Engineering Services, the second largest M&E specialist in the UK. He said recent discussions with designers revealed how they were already re-examining forthcoming office projects with a view to move away from spaces conceived for traditional rows of desks and how to integrate proptech. "There seems to be a greater proportion of meeting rooms and collaboration space; almost redefining the purpose of an office away from a place where lots of people sit at desks," he said. "Maybe the offices of the future will be designed very differently – not where lots of people sit nine to five, but more collaboration and meeting facilities."
So, Barbour ABI took note of this changing wind and talked to two big consultants to garner their bell-weather views.
Philip Bentley is EUNA property director at Mott MacDonald and manages the consultant's own real estate portfolio. While the firm is in the business of building design, in an example of a doctor curing themself, he outlines how the company is transforming its own UK footprint for its portfolio of over 30 buildings that encompasses about 450,000 square feet.
The Covid Accelerant
About 20% of Mott MacDonald's 6,000 or so UK staff were already employed under flexible and agile working reduced hour, part-time and term-time contracts before the global pandemic struck. But this arrangement was but a prelude to changing work patterns. "I don't think there is a post Covid world but it has been an accelerator and [in terms of living with it]," says Bentley. "We did a staff survey last May where we found 60 per cent wanted a mixture of home and office working, 20 per cent wanted to still mainly work in the office and 20 per cent want to work predominantly from home. So the two to three per cent of our workforce that was going to be home working [pre-Covid] is going to rise significantly and the agile workforce is going to rise massively from 20 to 60 per cent."
People Per Desk
It's clearly a factor that will markedly impact desk usage, layouts and estate square footage. In Mott MacDonald's case, Bentley had been analysing the firm's requirements for several years and he paints a picture of a landscape in flux. "When I took this role on five years ago we were at around 0.88 people per desk. We then started taking new space at one person per desk and then moved to 1.2 people."
It was a trend that is gathering pace. "As of this January we think this is accelerating from a target of 1.5 to 2 people per desk and it will develop further. I would say that in five years we'll probably be looking at 3 people per desk," says Bentley, tying this to contractual arrangements. "The biggest opportunity in our portfolio is 2024-2025 where we have the leasings up for renewal in about 40% of our footprint," he says.
Homeworking Not for Everyone
So what impact will that have on an office environment and how radical will any changes to office life be? Bentley sees a landscape in flux, but one that isn't about to be turned upside down. "The desk isn't dead," he says, identifying at least one group that might need office space out of necessity. "Some people such as graduates that live in shared houses might want to work from home but they don't have the required environment and they also want to come in for support. If you want to focus or need privacy, then working from home is brilliant, but if you want to collaborate or learn from others then working from home or remotely presents challenges."
While office footfall and people per desk are aspects of these changing times though, businesses are looking at transformative office layouts.
"If you want to collaborate or learn from others then working from home or remotely presents challenges."
The demise of 'my Space'?
"A lot of what we do as a business is desk-based activity but we're looking at our space planning now and increasing the amount of collaboration and meeting space," says Bentley. "We've dropped our desk coverage from about 55% of the office footprint to around 45%. We've got our first big office that we're moving for a lease event in Southampton and we're currently designing that office – the big difference is we're moving to the ratio of two people per desk but with significant increases in what I call 'our space' rather than 'my space'. We're bringing desk booking systems in from the proptech side which is part and parcel of the new world.
Smoothing out work patterns
Bentley says one pressing issue for the company is the need to even out the days of the week that employees are using its offices. "With any office you see peaks on Monday to Wednesday with certainly less on a Friday. The most unsustainable thing we do with offices is use them only four days a week – we need to even that out. But the magic word for me is 'choice'," he says.
"People are getting a choice on when and where they work. When they come back into the workplace they want a variety of workplace settings – their desk is just one of those and they want choice on how they do that work in the office."
"People are getting a choice on when and where they work. When they come back into the workplace they want a variety of workplace settings"
Square footage reduction
With such patterns emerging, it's no surprise that Mott MacDonald is eyeing rationalising its estate. "Looking at the 'office 2.0', we think our portfolio will consolidate to around 325,000 square feet by 2025 [from the current 450,000]," says Bentley. "We're not planning on shutting offices, it's about 'right-sizing'," he says, underlining that staff won't be expected to travel longer distances. "With us it's also about saving people's commuting times. If you've got an office in Edinburgh and one in Glasgow, do you need both? The answer for me, when there's a 45 minute to an hour commute between the two, is you probably do." It's hardly a stance that will get universal acceptance of course. "Some businesses won't take that view and there's the thought that people will commute further if it's less often, but people don't want the cost and stress of commuting on a daily basis into an office," he finishes.
Industry ramifications
John Gleeson is WSP head of smart places UK. Barbour ABI asked him about some of the consequences for the industry. He says that even before the pandemic the office sector was coming to terms with a big push towards activity based working in office space. "The major leaders in corporate real estate, especially the big anchor tenants were looking at how the space was being used and how buildings were enabling the most engaging and collaborative environments for their staff," he says. "Workplace architects were focussed on the needs and desires of user groups, how they interacted with building spaces and their colleagues." Gleeson says these architects were starting to frame those needs and were then building out different characteristics of an office zone to fit these observed changes to the 'day in the life' flow of office workers.
Gathering momentum
But like Bentley, he says that while this direction and momentum was already manifesting, it's been "massively elevated" across the industry as a result of Covid. "Our engineering teams across the board are communicating with those architects and understand that there isn't a tick-list of nice boxes where you fit everyone in [to an office].
This analysis has also led to previously unknown levels of end-user liaison to increase WSP's understanding of these shifting sands. "A lot of the work we're doing from our strategy side is working with clients to consult with their staff; never before have they had such close interaction with the people that are actually going to use the spaces and we're looking to validate some of those design assumptions. We're working with clients like Santander who are building their headquarters in Milton Keynes and have really invested in this whole space." He's referring to the new £150m Santander campus for which WSP won the building services engineer package. Aside from the working environment, the site will include a fitness centre and an employee rooftop walking and running track.
"A lot of the work we're doing from our strategy side is working with clients to consult with their staff"
New methodologies
"We've also worked with the likes of Morgan Stanley who are looking at their existing estates to try and unpack how they can stay competitive in their market," says Gleeson. "We're working with [clients] and saying if you're looking for that kind of agility, what does that actually mean for the M&E of buildings – 'how does an engineer respond to that?' Just having that headline of 'we want it to be agile or adaptable' doesn't manifest into something tangible very easily. So clients are putting a lot of time and effort into introducing new methodology and process around design thinking and user experience activities that help us validate ideas a lot faster, before they make decisions that majorly impact a workplace.
He agrees with Bentley on a perceivable drive for an office environment which brings in different open plan collaboration spaces with big table settings but with smaller condensed meeting rooms for focussed working. "There are a lot more ad-hoc booths and spaces allow for both introverts and extroverts to sit and focus," he says. "It's an evolving process and the adaptability of those spaces to cater for types of personalities is going to be part of the next five years to allow for those different working habits to come through and flourish. Just having open plan spaces doesn't always support those introverted environments." It's a task that lends itself to clients with more than one floor in a building. "Where we have multi-floor client tenants involved they will try to isolate different floors for different requirements to allow people to see occupancy and density across different floors so people can find quiet spaces," he says.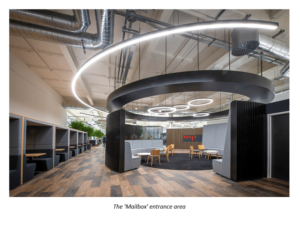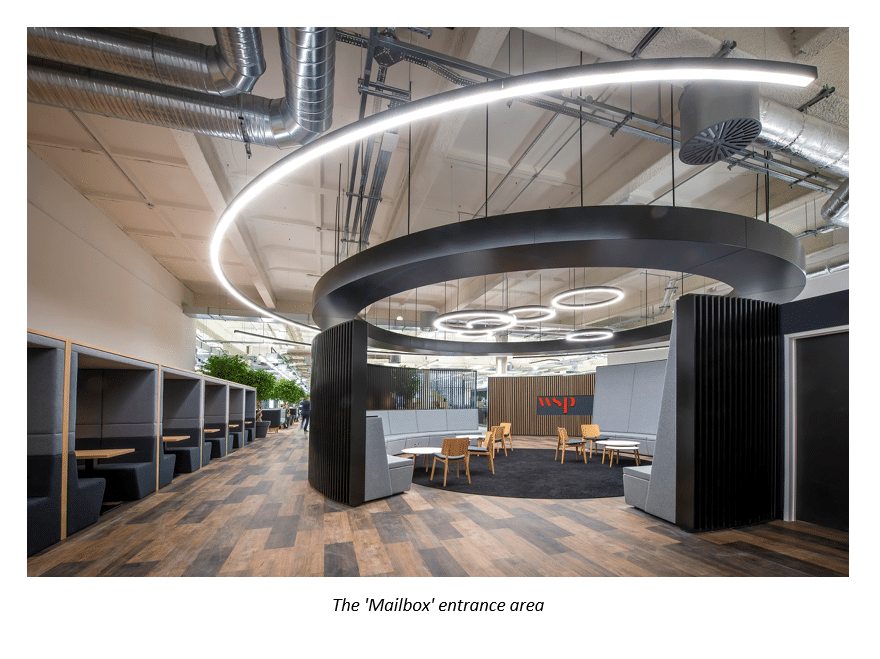 Evolving technology
Gleeson points to a big shift in technology to satisfy the demand for customisable office spaces. He says that while this includes the obvious such as real-time control over lighting and heating, there will be a huge focus on proptech over the next three to five years to encompass other aspects as well. "This is where IT and OT [operational technology] might integrate," he says. "It's about smart building enablement. The traditional supply chains for IT equipment will change if people are mobile [in their office environment] rather than stationary – the long term supply agreements with technology providers, those contracts are changing; people are going to have access to more agile equipment.
"It's about smart building enablement. The traditional supply chains for IT equipment will change if people are mobile rather than stationary"
But it goes beyond this too. "The amenities and services within buildings – everyone's looking for a real community that will change some of the operating models for offices. These models are opening up with much more dynamic leasing available for different user types and businesses within a space that focusses on creating accessibility for all of those amenities through a single interface or app." It's an easy thing to wish for, but harder to deliver perhaps, when it comes to refining a single representation for multiple apps and interfaces in a user friendly manner through one screen.
The desire to achieve an interface by what is often termed 'a single pane of glass' is not helped by the fact that traditionally, building systems are notoriously fragmented with each setup generally unique to each building. But it's a goal that technology providers are driving towards. "If you look at an office space and how they've introduced retail [and other] services they have some sort of user interface to connect with the people that use the building," says Gleeson. "They need to be able to communicate and interact with those users and a lot of the time it's by having their own separate apps. [People] are looking for ways to operate the [available services], facilities and operations of that building with the smart technology objective for both users and tenant managers being to consolidate those silos and bring it to a single point of interactivity."
An achievable aspiration?
This goal of connecting workers with services and amenities to create a village community across a building isn't a simple challenge. "In large part the industry has struggled to illustrate the value of and get traction with users [for such solutions]," says Gleeson, adding, "it really does promote that circular economy idea for a building, so that those retail tenants can flourish." There are, however, developers that are fixed on delivering such environments. "We're working with the Sellar Property Group that built The Shard and they have a huge emphasis on how they can differentiate themselves in the market," says Gleeson. "They're looking at how they connect office space, restaurants, retail and below ground a whole public realm of transport to generate a community that interacts and makes the whole process engaging and seamless," he says.
Building contractor impact
According to Gleeson, there's another dynamic at play regarding these changes to the workplace and how technology is procured. "Understandably, the traditional building contractor doesn't really have the same skillsets for what's needed with digital solutions," he says, adding that WSP is doing a lot of work with market vendors to explain and connect clients with solutions that are in the market, ahead of how they can be brought to reality. "So, master systems integrator is not a term that a traditional client would be familiar with; these are a special set of skills that connect digital and physical technology together like your lighting, HVAC, controls and security and bring it back into an enterprise and asset management user interface like an app," he says. "There's going to be a big shift in how those services are procured and a lot of clients recognise that they can't necessarily procure those through building contractors. That is going to need new service advisors coming in. It's a challenge for professional services in the likes of M&E engineering because they don't have those inherent skillsets either." He says firms will need to adapt, invest in this space and partner if necessary. "A strategic technology partner can help you get from construction to digital," he finishes.