Industrial construction project leads
Our construction intelligence platform provides clients, contractors, designers, surveyors, and suppliers with visibility of every Industrial construction project in the UK
Access all major Industrial construction projects
You can now have complete visibility of the UK construction project landscape by having our team of UK-based researchers as part of your resource. With Barbour ABI, you can discover Industrial construction project leads that are right for your business and will help you achieve your business goals.
Once you've found the projects you're interested in, contact details of key decision makers are listed so you can see other businesses they're associated with. This means you can gain a competitive edge by contacting the right people at the right time and develop strong relationships within the Industrial sector.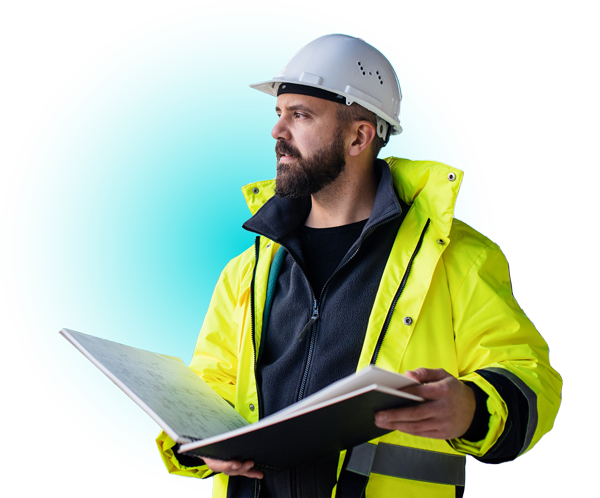 Search for all construction project leads in your target area
Discover the latest construction projects in any sector or region.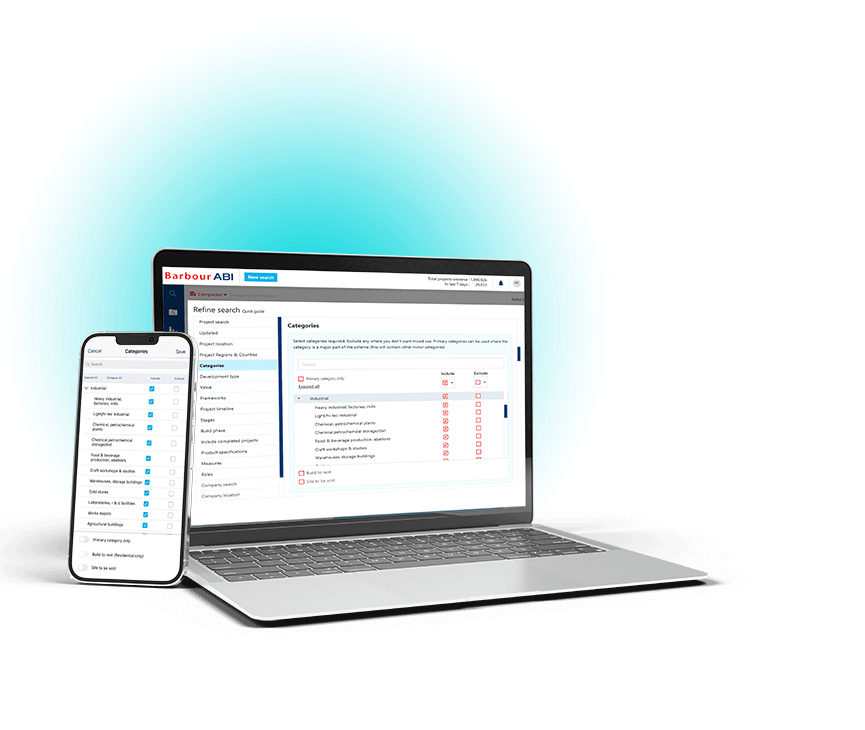 Filter Industrial projects for tailored results
Create bespoke search results with our advanced filtering system and receive updates on the Industrial construction project leads that are most relevant to your business. Save valuable time by only targeting projects you want.
Our specialist researchers contact construction businesses who work within the Industrial sector and keep up to date with what's happening, giving you the best opportunity to stay ahead of your competitors. Let us do the hard work for you so you can focus on building a strong project pipeline.
Gain valuable insight with free construction reports
Our monthly construction industry reports provide expert insight on UK construction, with coverage across all sectors and regions. Plus, with a Barbour ABI subscription, you can utilise the League Tables function for more granular Industrial construction project data.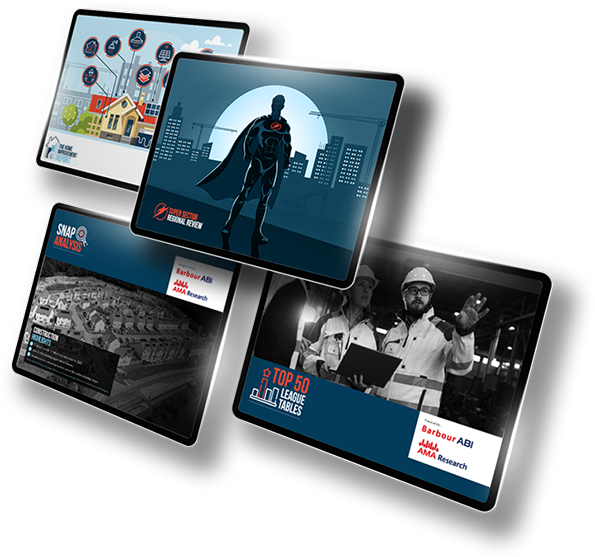 Grow your project pipeline with Barbour ABI
At Barbour ABI, we specialise in providing construction project intelligence and market insight for the Industrial sector.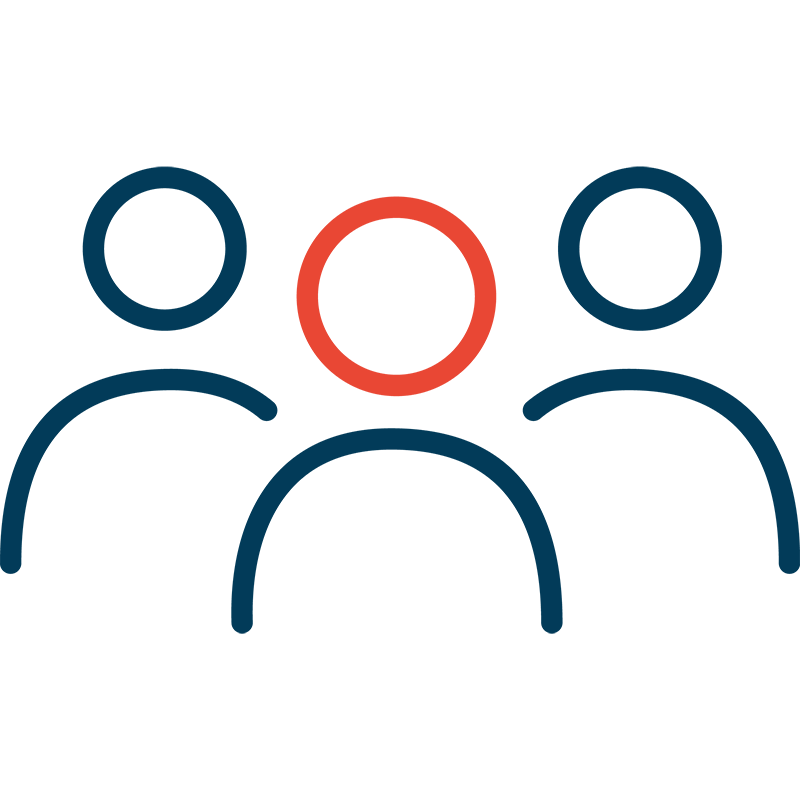 Dedicated team of researchers
Our researchers find all vital construction project information, saving you time and effort.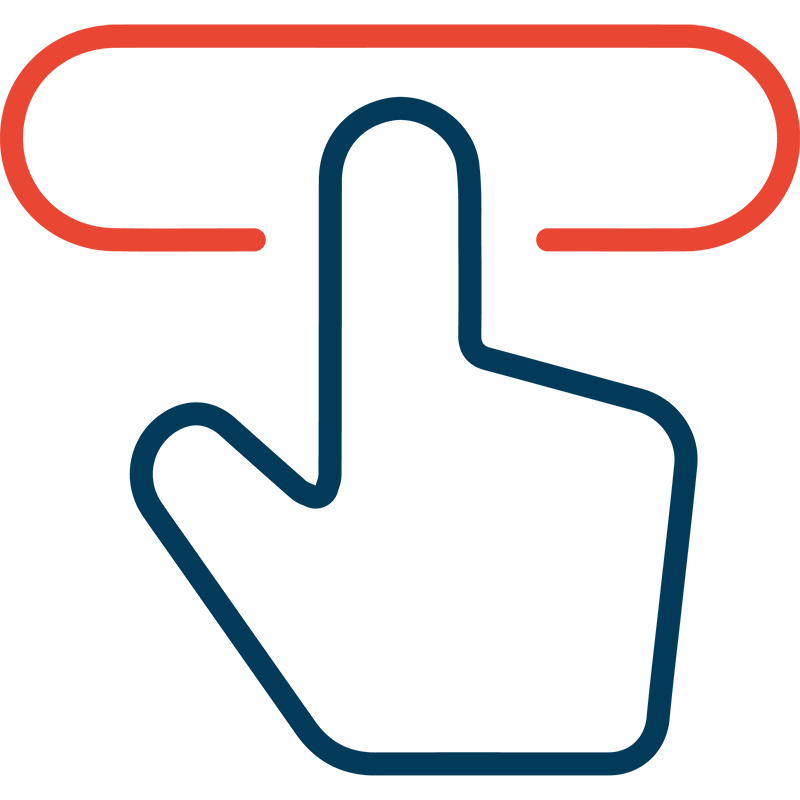 Filter by location, value, stage and more
View only relevant construction project leads with advanced filtering.
Target the right projects at the right time by receiving updates straight to your inbox.
Develop lasting relationships
Get in touch with the right people using contact details of key decision makers.
Barbour is intrinsic to my role and without it I would not be able to identify opportunities. The Customer Support Team has been fantastic in helping me create strategic business reports."




Barbour ABI is a system we use every day that helps us to optimise opportunities for future business. The Barbour ABI team help us to be as efficient as possible with their highly informative data and efficient communications."

Find leads anywhere in the UK
Build your pipeline with 10 free leads from the market-leading construction intelligence platform
Free Industrial construction reports and insights from industry experts
Subscribe to our monthly reports and receive updates on the Industrial construction sector straight to your inbox.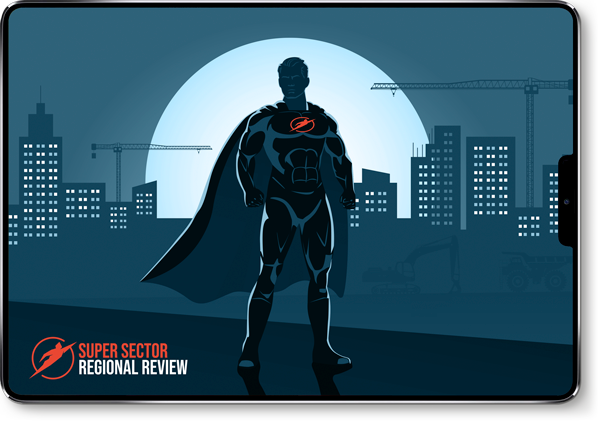 Super Sector Regional Review
See the hottest sectors in your region, and the hottest regions in your sector.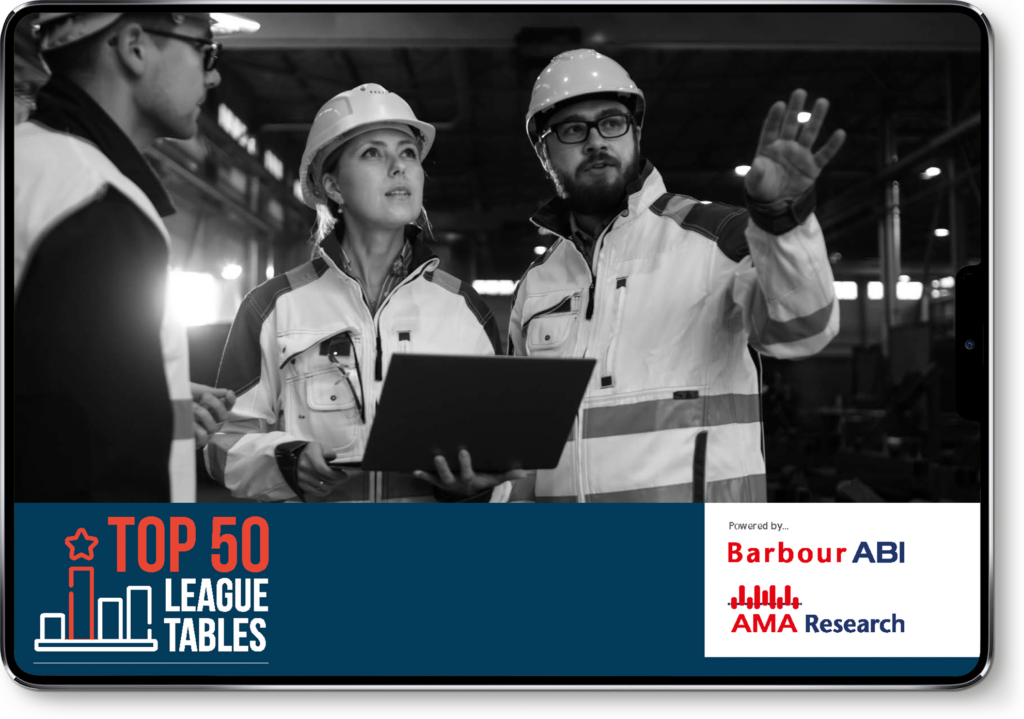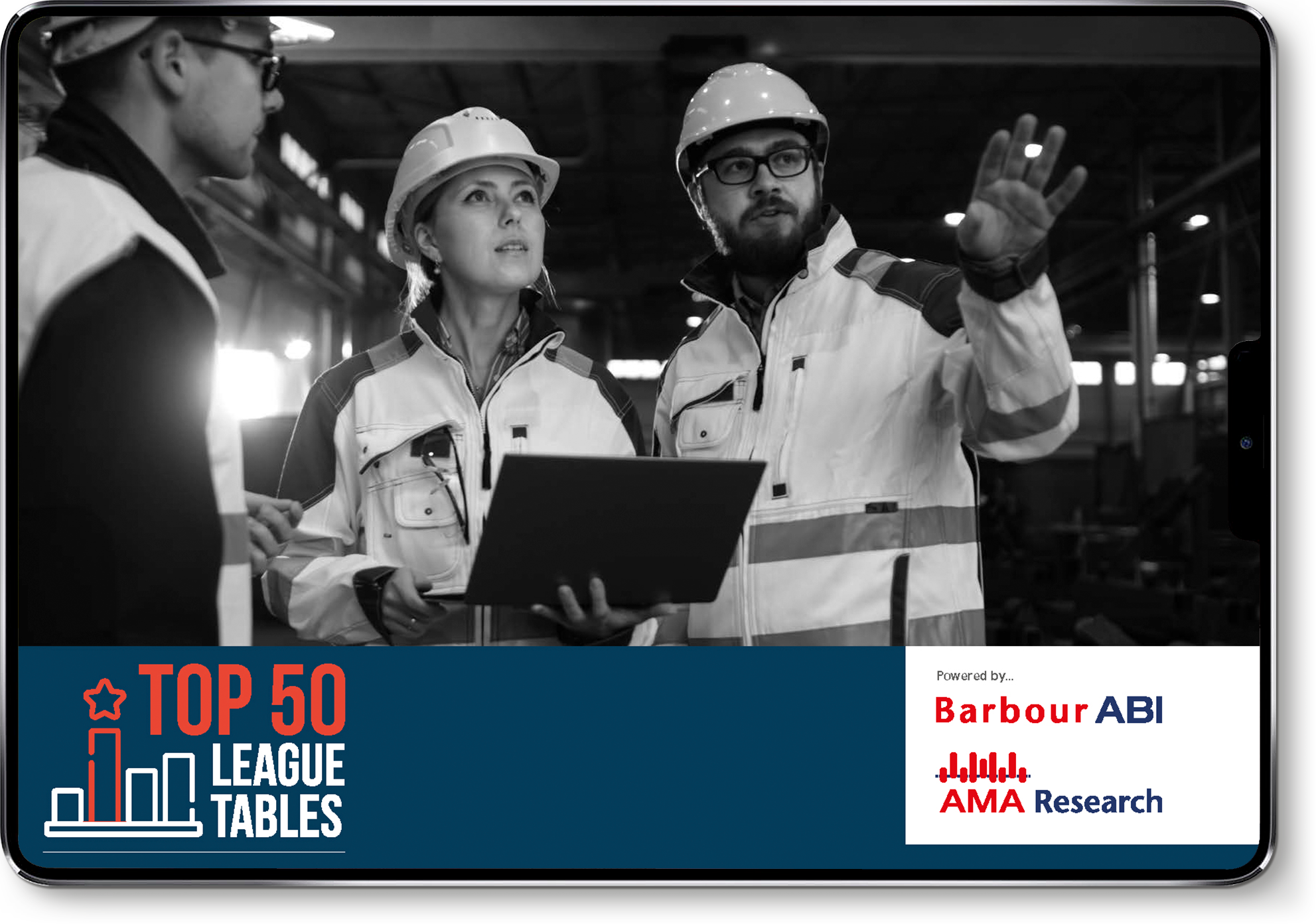 The top 50 clients, architects, and contractors for the month.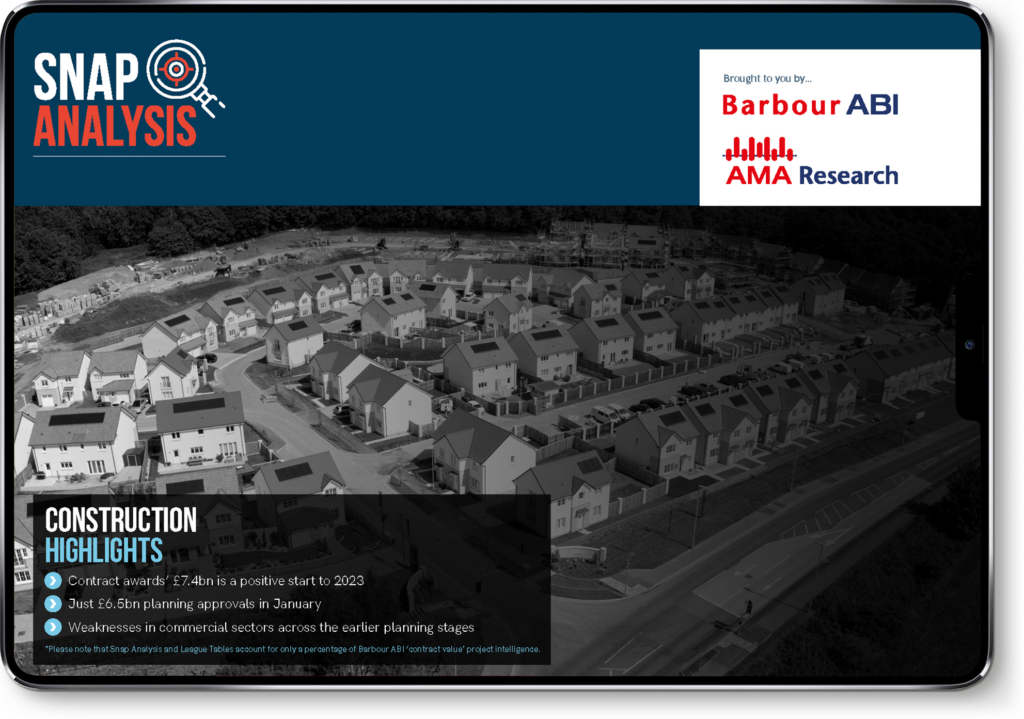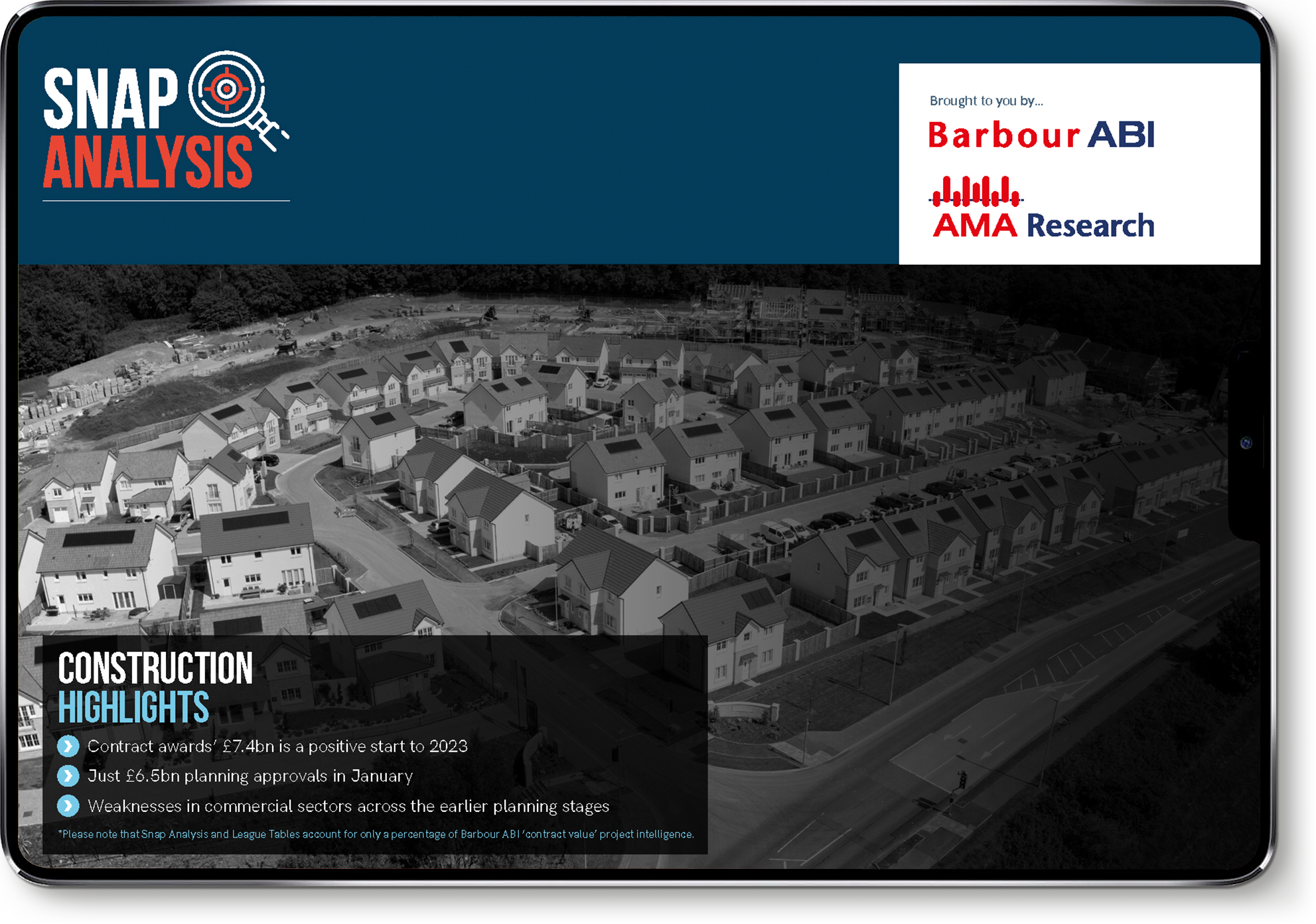 The leading indicator of activity in the UK construction industry.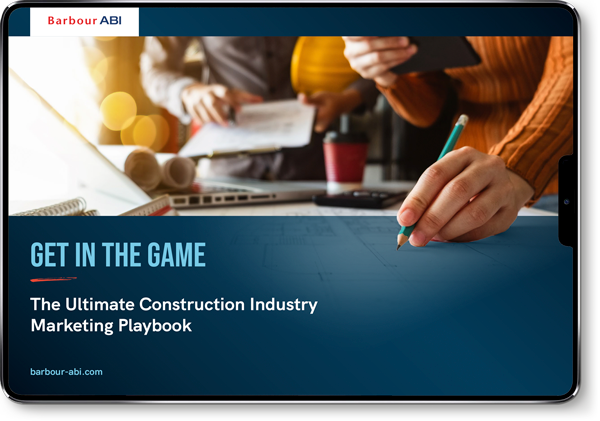 Construction Industry Marketing Playbook
Your essential guide for marketing to the construction industry.