Offsite and modular building construction is evolving at pace in an industry that's often slow to adopt new practices. With a relatively small number of contractors set up to fully embrace it, this month we look at the experience of early adopter Laing O'Rourke and ask where next for this disruptive methodology.
"Our view on modern methods of construction (MMC) is that it unlocks the potential to drive much quicker programs and greater degrees of productivity," says firm advocate and Laing O'Rourke head of UK Building Paul McNerney. "We talk about 70:60:30 as the guiding metric, which is taking 70% of the project into an offsite environment, being able to use 60% of the [traditional build] resources required and take 30% off the program."
"If we aggregate the substructure, the facade, all of the MEP systems and then look at some of the fit-out with smart partitioning we are able to get up and above that 70% level," he says". "It then drives the other benefits of reduced program and less need for resources on site and you can actually then work with 60% of the overall resources that you might otherwise have required on a project."
To test its assertions, Laing O'Rourke says it compared DfMA and traditional construction methods on the delivery of Crossrail station platforms and found the following:
| Project | Method | Installation team | Operative hours worked | Outstanding snags | Safety incidents |
| --- | --- | --- | --- | --- | --- |
| Liverpool Street Crossrail station | DfMA | 7 | 2,973 | 0 | 0 |
| Tottenham Court Road Crossrail station | Traditional (in situ) | 57 | 36,882 | 12 | 3 |
Far from considering 70% the limit for taking a project into an offsite environment, founder and current CEO Ray O'Rourke anticipates it could rise much further and has gone on the record stating the business is targeting 90-95% offsite component manufacture by 2025. And while the opinions of recently announced incoming CEO Seamus French remain to be heard, it seems a safe bet that offsite delivery will remain a pillar of the business.
An unusual set up helps
Perhaps by chance, with the contractor known for its self-delivery model, it's unusually well set up to be an offsite front-runner. "We couldn't do this without the ability to directly deliver [projects], we couldn't do it without the manufacturing capability and we certainly couldn't do it without the digital platforms to link all that together – the three absolutely need to work hand in glove," says McNerney.
With 'manufacturing', he's referring to the Nottinghamshire 'Centre of Excellence for Modern Construction', a factory that Laing O'Rourke opened in 2007 and has invested at least £200M in to date. He provides an example of the labour reduction that investment has brought. "We have a residential project in [London's] Kings Cross and just four people are working to produce a whole floor slab. The team that run the automatic carousel at the factory that produces the products is 12 [people] running three different shifts. It's less labour intensive on site and it's highly automated offsite.
"We see massive opportunity in programs of work. Health, Education, defence Ministry of Justice, those schemes lend themselves wonderfully to a standardised repeatable approach where offsite techniques that use of a palette of products can be brought to bear and replicated time and again all over the UK."
McNerney acknowledges there have been counter-arguments to offsite. "The narrative has come with a downside where architects, clients and the public at large [have imagined MMC buildings] as standardised ugly grey boxes. Actually, it's quite the opposite and because of advancements of digital tools and in materials technology, you can create wonderfully vibrant and architecturally-led buildings using standardised and product-led palettes."
He says delivering big projects has also not been a problem. "About 12 months ago we completed the Grange Hospital in South Wales, which was well above 70% offsite with the façade, structure, services and fit-out all driven through the factories. That demonstrated to the market that you can build a full-scale acute general district hospital through a fully offsite solution."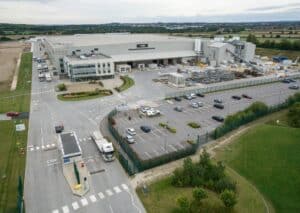 Necessity remains the mother of invention
McNerney says much of this cross-sector rollout came through simple necessity borne of global disaster. "The reason for that factory was to build schools. At that time we had a couple of national frameworks and scaled and designed the factory to support those. Then the global financial crisis hit and overnight those frameworks were cancelled. We were left with a very expensive factory that didn't have a demand."
But rather than it sounding the factory's death knell, he says the crisis was an accelerant. "Very quickly – over a five year period – we had to work out how to use this capability to support our entire portfolio and push it into high-rise residential and commercial, life sciences, and complex civil engineering projects. That is where the startling growth has been and the piece around schools, hospitals and prisons has been an evolution," he adds.
However, the solution was introduced back to front in the first instances. "In that first wave we found techniques and ways to reverse engineer into projects an offsite approach, often from a RIBA Stage 4 or 3 design and working backwards," says McNerney. "We proved it could be done with a certain level of gain for the project."
It's not the best way to implement an MMC approach though. He says the way to truly unlock the benefits is to start with DfMA in mind, which is the second wave of evolution the contractor has undergone. In central London in particular it's been working earlier in the process with consultants and clients, often at Stage 2.
"We say, 'if we're designing this with MMC and DfMA [design for manufacture and assembly] at its core from the outset, how might we go about that? How might those specifications be written? How might some of the big decisions be made around structure? And what does that mean from an embedded and operational carbon point of view?"
Addressing the difficult sectors
McNerney admits there are more difficult sectors for these techniques such as the more bespoke, architecturally and façade-led buildings. "But we've now got half a dozen commercial offices in London where we're working with the designer and the client at Stage 2 to design these buildings with DfMA at the core from the very beginning," he adds.
Laing O'Rourke is nonetheless aiming to get well above the 70% offsite figure even in these more testing types of buildings. "We've already attacked the big areas of a [typical] job. By the time you've done the envelope, the structure, the substructure, and most of the services, what you're really left with is the more discrete fit out," says McNerney. "That's where we've challenged ourselves to remove block work and dry lining and find smarter walling solutions that can be tilted into position with services already in, much more like shipbuilding. This year we also trialled a modular lift for the first time, where instead of creating a long deep concrete shaft and then putting people in it to build the lift, you actually drop in pre-assembled plug and play stacks.
"So the marginal gains that we'll get from driving traditional [processes] with often low quality outcomes out of the building is where we're going to get to those [higher offsite percentage] levels. And we have some ambitious plans around an offsite residential solution to invest in further factories that would bring that to market.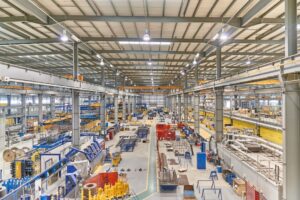 Low carbon credentials
With the low carbon spotlight now firmly on a big-emitter industry, McNerney is convinced that MMC has a significant role to play. "For 10 years we've been describing the benefits of offsite through the lenses of programme, increased quality, increased safety and creating new skills for people, whether they be factory based or onsite," he says. "But really well designed DfMA-led projects are inherently more sustainable, full stop. That's the headline and it's absolutely the case.
"We've worked on three central London commercial building projects in the past six months where the client has been through the design process and put it into the market. We've refined and rationalised the design, driven more standardised approaches to take out the variability and reduced the amount of materials. So we've quantified what that meant from a raw carbon as well as a use of resources point of view."
He says there are other factors too. "Manufacturing the concrete components offsite means this doesn't have to happen in line with the construction programme. And because you can make them whenever you want, our engineers are able to take the columns, beams, walls and floors and put them together in [the most efficient] orientation. Then, with the addition of new material specifications and new structural designs we have super high performance frames that have got the least amount of material in them."
There's another benefit regarding one of the highest embodied carbon materials he says. "Because we manufacture them off the critical path using very long curing concrete, it's far less cement rich and so less carbon intensive. We were then able to start combining other materials with that, such as timber for floor or ceiling cassettes, to unlock massive carbon benefits. We're rapidly proving to ourselves, and increasingly to the market, that the reason you would do modern methods is because it's a huge sustainability unlocker."
Over the last two years Laing O'Rourke has developed a series of tools to measure the carbon impact of projects and says it can now evidence the benefits a DfMA approach delivers. It cites the example of a major commercial development in central London where it has reduced the project's embodied carbon by more than a quarter, through a combination of maximising the use of DfMA, better material specification and lean design.
Diversity driver
McNerney then makes a point that's quite an aside from the more expected benefits of MMC. "My vision is that in 10 years you'll walk past a construction site that doesn't look like one. It's a place of calm, quiet, silent assembly with just a few digitally equipped technicians; it's something we're getting very close to today. And when you look a little harder, those technicians will be male and female, they will be people of all backgrounds and diversity and be able and disabled. They will all have accessed rewarding careers through the changes and upskilling created by moving from traditional outdated techniques to a digitally enabled assembly approach and we will be competing with the gaming and IT industries for talent."
He finishes with a cautionary note. "I think our view is that if you're not evolving, if you're not developing, if you're not innovating, then you're dying. And that's why we've taken the decisions that we have," he says.