This month was an excellent month for contract awards. Growing by 37% and reaching £8.3bn, October was the biggest month for contract awards since April.
The standout sector this month is Residential. According to Snap Analysis the sector had a month-on-month growth of 18% with £2.3bn worth of contract awards, which is over a fourth of the entire industry! The Residential sector has been performing well since Covid-19 and the RSI (Relative Strength Index) has only dipped below 50 once in the past nine months.
London has performed the best this month, dominating 24.5% of all contract awards in the residential sector, according to Barbour ABI's data. During lockdown, there were reports of some London residents growing frustrated with the city, with frequent discussions of whether workers would move away from the capital in the wake of the move to working from home. But the question is, is the capital going to see an even bigger growth in the upcoming months?
Straying from the city?
Many reports support the statement that during the pandemic a large portion of London residents wanted to move out of the city, but why?
Firstly, Barbour ABI's data clearly shows a rise in residential activity from lockdown to now. This can be shown through the value of contract awards. In August 2020 there was £188m of contract awards in London, this figure has grown to £510m in October 2021; highlighting that residential activity is much higher post pandemic.
But why did people consider leaving the capital in the first place? London is known as being a very expensive place to live. London housing and rental prices are some of the highest in the world, with many London residents only having around 50% of their income left after paying their rent/mortgage. Regardless of the benefits that the city has to offer, the huge cost of living is undoubtedly be a major factor for those considering leaving the city.
However, the main reason identified for why London residents consider moving out of the city is due to lockdown. During lockdown, 1 in 7 Londoners (14%) admitted they wanted to leave the city, according to the London Assembly Housing Committee. As a result of the pandemic, many London residents came to reconsider their property requirement due to the much greater amount of time spent at home than they were previously used to
A statistic from Mortgage Finance Gazette, states that as of 2017 around 43% of London residents lived in a flat. Therefore, it can be presumed the majority of residents living in London lived in flats during lockdown, which traditionally have no outside space. During the heat of the pandemic, residents were instructed to stay inside and only leave their property for one hour a day. Therefore, it is no shock to find out that London residents considered moving to an area where outside spaces are more common in properties.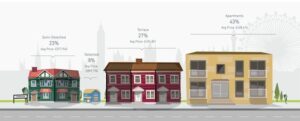 (Image sourced from Mortgage Finance Gazette)
The pandemic changed many things, including the requirements residents were looking for in their homes. A survey of London residents showed that more than half of the respondents have been heavily influenced by the pandemic and the must have features for the future homes has now changed. According to Evening Standard, the most sought-after feature in London homes is an extra room for home working, closely followed by outside space such as a balcony or a private garden. To support this, research from Landlord Today states that 39% of London residents are demanding an outside space in future properties. A smart map released by the Government shows the amount of greenery in London, which includes private gardens. When looking at the map it is clear to see a limited amount of greenery, which supports the London residents choice of moving out of the city.
As there is an increase in demand for more spacious properties in London which have an outside space, will developers see this as an opportunity and begin to build more properties which cater to the new wants and needs of residents.
Given the data from this month's Snap Analysis, it could indicate a recovery for the residential sector in London, as although buying behaviour is changing, the opportunities London has to offer is are not. In contrast to the predicted downfall of London, there are many reports which indicate the return of residents into the UK's capital.
Back to London
First of all, when one thinks of moving to London it is because there is a long list of benefits. Despite it being more expensive to live, London is undoubtably full of opportunities. Victory Van released a report stating the benefits of moving to London, the main benefit being the plethora of employment opportunities. Due to London being the home to many businesses, no matter what level of employment a person is, London is sure to have an opportunity. This may drive more people into the City than ever before as the pandemic has made a stable environment harder to obtain.
Also, many people look at London and instantly assume it is too expensive for them to live there, but many people forget that the wages are higher in London. According to the ONS (Office for National Statistics) the average salary in the UK is just under £26,000 as of 2021 and Glass Door states that the average salary in London just under £41,000.
So by living in London, despite the housing prices being more expensive, residents will earn more income and be presented to more opportunities. This could be a reason as to why the residential activity has been so strong in October, as post pandemic people are struggling financially as a result of unemployment.
Furthermore, a report from The Telegraph shows that residents are moving back into the city and those whose properties are currently up for sale are reconsidering. According to the report, since lockdown restrictions have begun to ease there has been an increase in interest for London properties.
OnTheMarket stated that there has been a 31% increase in London property searches over the past 12 months. But only a 4% increase in searches from London residents looking at housing outside of the city. Suggesting, the desire to move out of the city from Londoners has diminished.
Also, there is an increase in interest from new buyers wanting to purchase/rent their first property in London. Mansion Global supports this, as the number of prospective buyers in London has increased by 56% in a 12-month period, which diminishes the idea that the London residential sector is going to flatline.
Summary
To summarise, Barbour ABI's data shows that London made up over 25% of all Residential contract awards in October, does this mean London living is back on the rise, after it once dipped?
Traditionally, everyone wanted to live/work in London. A survey shows that in 2014 1 in 6 respondents wanted to work in London, making it the most desirable place to work second to New York.
Given the data from this month's Snap Analysis combined with external research, it seems like there may be an increase in new and existing residents purchasing and renting property in London, leading to potential opportunities for the market to develop further.
Stay up to date with the latest construction industry data, from which this blog was produced, by subscribing to our monthly Snap Analysis report!