While digital construction techniques is revolutionising project delivery, the benefits realised from a technology roll-out are fundamentally tied to staff buy-in and adoption. This is nevermore the case when it requires operatives to embed new ways of working into their daily working lives. In this first of two articles, we take a look at examples of developments at two major contractors and some of the lessons learned.
Mark Norton is head of BIM at ISG, a company that describes itself as a global fit-out, technology and construction business. It's the tech part of this description that speaks of a self-awareness as to where the firm believes it can add value to projects.
"This year has probably been the catalyst for great use of technology, I think everyone's seen that," says Norton, with a nod towards remote working during the global pandemic. "But taking a step back, intelligence isn't necessarily using clever things, it's being clever with what you use and simplification has been the single biggest thing that we've done." He says the business has had a two-minute rule mantra for the last five or so years. "When you're going to implement something, if someone can pick it up and use it within two minutes, they'll probably continue using it. Anything more than that means it's getting very complicated and people tip over that edge," he says.
He nods to smartphones as the standard to aspire to, where they can be picked up and quickly understood. "Anything we use on site has got to be easy to deploy and simple to use, no-one likes to go on three hours of training just to use a bit of software, especially site people. That's no disrespect – they want to 'crack on' as we say.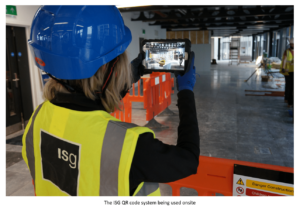 The Intelligent Pre-Site
Norton says the firm has employed a few different tactics this year, mainly at the start of its projects before getting to site. "We had an office fit out in one of the tall buildings in London that we started at the beginning of the year where we did a full interrogation of the design model before we even won the job," he says, explaining that investing a couple of weeks rebuilding it meant the team knew exactly where the concerns were. "We came up with over a hundred issues on this one floor – and the floors were quite repetitious. We went to tender with that and ran through it with the client and they were very impressed so we won the job," says Norton.
The knock-on bonus meant ISG was then able to pass on this critical intelligence to its supply chain that resulted in a near-perfect variation performance. "We went through that job with one variation on site from start to finish, which is pretty unheard of. Just doing that one exercise before we even won it was really beneficial," he says.
Viral Adoption
The second thing ISG did on the project was to introduce tablets and iPhones and a single point of contact with the data. This ensured everyone worked off the models using Revizto, a 3D collaborative BIM platform that connects architecture, engineering and construction. "It was quick and easy, people loved it and it went viral," says Norton, adding that other site workers saw the benefits and wanted it. It wasn't a case of quickly adopted and quickly forgotten either as the project team requested to use it again on the subsequent scheme it worked on.
"It's one of these platforms that shares data, whether it's geometric or informational," says Norton. "You can log snags and add photographs – all the good things you do on site which are normally fragmented and disparate on clipboards and pocketed everywhere with no-one getting full sight of it." He says. "This pulls it together and everyone gets full access to that same information so it provides ultimate clarity. But it's so simple to use, which harks back to that two minute rule. Part of that measurement of success is adoption. People are using it, they want to use it, they're continuing using it and we only had one variation. There's your grand slam to start with," he says with evident satisfaction.
Norton says that a typical job of this kind might throw up over a hundred such variations, with even a minimum variation normally running to about two to four thousand pounds. "But it's not just the financial impact, it's the time," he says, "everything went in to programme – there were no implications that snowballed down. That clarity it provided made for almost the ideal project."
AR Developments
Lee Ramsey is design management and BIM director at Morgan Sindall. He says the three main components of the company's four-year digital strategy, which runs to 2024, are augmented reality for operatives, robotic scanning and automated generative design to identify best solutions.
"We are starting to see and trial augmented reality which I think will have an important role in the future," he says. "We tried Hololens, which has its limitations in terms of processing power. Now we're using iPad Pros to take models onto site where we can do AR; it's much easier to engage with people because you've got a shared screen and more processing power compared to headsets.
He explains that having a real world view taken via the iPads camera, overlain with a digital representation of the project, allows the user to rapidly understand any differences between the two. "It's really quick reference material to identify issues," he says, acknowledging that there's still work to do. "We still need to do some scripting for the 3D models. We've done some trial AR projects and we're trying to get it into the workflow more easily and for it to be instantaneous."
Ramsey says one challenge for Morgan Sindall is the processing time it's experiencing with the widely used Unity videogame engine, alongside a requirement for graphical refinement. "The polygons need to be optimised and it ultimately affects the project's time and cost – but when it's [completed] it's fantastic," he says. "[Automating] it with artificial intelligence, rather than having human intervention to crunch the data together, and having the processing power for the heavy lifting, is the key."
He says that In the meantime the contractor is simply taking the 3D model onsite for visualisation via iPads, regardless of augmented reality, and points out that this is generally becoming more commonplace on projects.

4D Enlightenment
For construction management ISG uses a product called Synchro. It's already seeing advantages over traditional management techniques. "Everyone's used Gant charts for years [for programme scheduling] but as soon as you introduce some intelligence into that [timeline], link it to a visual model and play with that simulation, you spot things you've never seen before," says Norton. "We've seen on several projects this year that although the Gant chart looked correct, when we ran the simulation the sequence was wrong – you couldn't physically build it that way." Indeed, altering the sequence did more than just make it buildable for the contractor. "It changed the programme [on one job] and actually brought it forward so that we saved a week," says Norton.
This intelligence gathering provides clarity and transparency, and according to ISG, one of the biggest bonuses is 'the democratisation of data'. This allows individual trades to see a 3D graphical representation that shows where any aspect of the build should be at a given time. The firm has taken the BIM model and linked the programme to a VR experience that – as with Morgan Sindall's example – also uses videogame engine technology rather than using traditional animation.
"It's something our head of visualisation has been working on," says Norton. "You can walk round this building on rewind or forwards [in time], stand anywhere in it and see what should be done on that particular day. We've started using it on bids and tenders and we're implementing it on a couple of projects now. It's the same with mock-ups – where we can't actually build them on site now we're doing them virtually, but to such a high level of detail that you could almost be there.
ISG says that this allows it to empower its supply chain to know exactly where operatives should be at any point in the build. "This isn't distilling [the technology] to a specialised person [for demonstration purposes]," says Norton, "this is democratisation – anyone can access it. We link animations, videos and three dimensional images to QR codes so someone can zap them on the walls onsite and see what should be there. On a site they [would normally] stick a drawing on the wall and everyone looks at it and scribbles on it. But they've now got the QR codes for each of the rooms on the drawing, so you can zap them and see what's going on. He adds that the same codes are also present onsite at the corresponding locations.
The contractor is keen to stress that this system has been developed in-house by its visualisation team comprised of 'construction people' rather than it being an off-the-shelf product that may have originally been developed for another industry.
It's not just operatives that benefit from the system. "We've used it for client presentations as well," says Norton. "You go to a school [for example] and the stakeholders who work there don't know construction drawings. But if they zap the QR code on the drawing they can see what the classroom is going to look like and you've done your job." It's made clear that an offshoot benefit in this scenario is that clients can spot issues with the design – that would have likely gone unnoticed on a 2D drawing – and provide feedback. This might be as simple as seeing a plug socket that needs relocating before it's been installed at the wrong height – rather than after the event.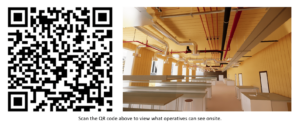 Robotic Scanning
On the hardware side of the equation, Morgan Sindall has been working on advancing how scanning is carried out on projects. "We've been working with the University of Salford and trialling robots for sites," says Ramsey. "We're using them to scan a building overnight with a mobile device that looks like a remote controlled car. It goes around the building, which is a lot quicker than using total station setups. But what's really interesting is the AI, which will tell you what's been installed within and without tolerance during the last period [of work]."
He says this demonstrates the kinds of connections which are now being made between previously disparate systems, and these connections allow for the interrelation of once siloed data. He adds that this is one of the biggest challenges facing the industry's digitisation. "If a tool does 20 per cent of something amazingly well, but doesn't cater for other areas, you've got to work out how to make different things work together," he says.
Next Level Lasers
Meanwhile, ISG has also been getting involved with hardware developments. "We're working with the manufacturer Faro to develop and beta test a project called Tracer, which maps things out on site," says Norton. "It takes the model and projects a laser outline of what you're going to build onto a wall, floor or soffit and then you install it or put your fixings there."
While total stations have been on the market for years and use a laser to indicate where an operative should be drilling or marking a hole, they just 'spot' the location. The new system, however, projects the actual outline image of what is to be physically installed, which it accesses from the digital model.
This bypasses the need for measuring. "You haven't got an apprentice with a tape scribing it on there and [possibly] drilling it slightly off," says Norton, "it's lasered onto the wall and you can mark and drill it while it's projecting. We tested the first [device] which was very cumbersome, but now they've got it down to the size of a toaster and it's actually proving to be pretty good. It was shown off in its concept stage in November 2019 and we're now evolving it with Faro – it's been pretty exciting so far," he finishes.
Faro has indicated it hopes to have Tracer ready for launch in 2021.
In part two of this article, we take a look at an on-going MoJ project, which is bringing together disparate digital and technological advances that are driving cost and programme savings.