The time quickly comes around, the latest Snap Analysis report is here, bringing your business a snapshot review of the construction industry in a digestible format. This month we saw many insight-rich trends emerge, particularly for infrastructure.
Overall this month, within all three stages of the planning process, we saw success. Contract awards continued its record streak with a strong showing of £7bn. Planning approvals recovered stratospherically with £12.4bn in February and applications started the year steady with £9.5bn in January.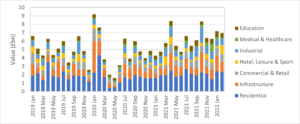 Within the graph above, it shows the breakdown of what sectors make up the monthly total of contract awards. As seen in the graph, we can clearly see the strength of contract award activity in the past 6 months', with every month achieving over £6bn. But what are the stand-out sectors and projects that are driving the industry to these record-breaking months? Our industry-leading team of data analysts and economists have highlighted one sector in particular to focus upon this month: infrastructure.
We have the infrastructure sector to thank largely for the phenomenal figures seen within planning approvals, as the sector saw its highest single month since 2016! With £12.4bn worth of planning approvals, infrastructure made up £5bn of this and it was solely down to renewable power generation.
Unsurprisingly, the Relative Strength Index (RSI) of infrastructure this month was 100 and also had a 115% growth from Jan-Dec. But what drove this success? This month there were many major projects, which included battery storage facilities and solar farms, but the star of the show is the project which made up £2.7bn of the £5bn total, which was the Norfolk Vanguard offshore windfarm.

The Norfolk Vanguard Offshore Wind Farm (Project ID: 12225106) has a total value of £2.7bn and is the development of an offshore wind farm with an output capacity of 1.8GW and will be developed in two separate phases: Norfolk Vanguard West & Norfolk Vanguard East. The project is due to start construction in the first quarter of 2023, taking 36 months to complete and finishing in the first quarter of 2026.
This month may have been a record breaker but infrastructure has had a strong showing since Autumn 2021, with a value of £1bn in approvals every month. The graph below shows a breakdown of the sector's values for planning approvals. Highlighted in orange is infrastructure, as we can see the sector has been increasing in value and making up a larger portion of the success each month – But why is this?

A report released last year by the Office for National Statistics (ONS) called 'Wind energy in the UK: June 2021' shares some statistics surrounding wind farms. Within the report it is highlighted that from 2009-2020 electricity generation from wind power in the UK increased by 715%. The driver for the sector's growth could be due to increase in demand as the popularity of generating electricity from wind has sky rocketed in recent years.
Another driver for renewable energy is the recent surge in electricity prices as a knock on effect from gas prices spiking. Kent Online released an article which states that energy bills are likely to increase by a huge 50% to around £2,000 per annum for the average household.
However, wind farms have been cushioning the blow for householders in the UK. The Kent Online article states that wind farms across the country have been returning millions of pounds to customers. To be exact: offshore wind farms, like this month's stand out project, paid back almost £117 million and onshore returned more than £40 million.
If renewable energy projects are proving to make household bills more affordable this could be the main driver for the increase in wind farms and renewable energy projects as the demand for cutting costs is recently very high. Will we be seeing even more success from infrastructure? Keep an eye out for next month's Snap Analysis to see the figures.
Learn more about the renewable energy market and the forecasts for 2022