June represents the end of another quarter. Thanks to the £6.8bn of contract awards which June produced, Q2 ended with a value of £5.9bn. Activity in June was held up strongly by the infrastructure sector, which masked the falls in commercially sensitive sectors.
Infrastructure accounted for just over a third of all construction contract awards – with £2.3bn. Despite having a total of 157 projects across the country, this success was mainly driven by a singular £1.25bn project. To showcase the success of the sector this month, we list the top three projects by value below…
1. Stonehenge Tunnel – A303 Amesbury to Berwick Down
The Stonehenge Tunnel project was the largest project by value in June across all sectors, not just infrastructure (Project ID: 12107091). The £1.25bn project comprises of a new 13km two lane carriageway between Amesbury and Berwick Down. There will also be a new two new junctions, one replacing the existing long barrow roundabout and one at the existing countess roundabout.
The project is set to start construction in the first quarter of 2023 and take 36 months to complete, finishing in the first quarter of 2026.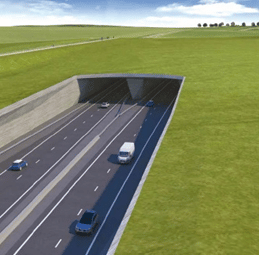 2. Shepperton Studios
The Shepperton Studios South Phase project is valued at £300m and is located in Shepperton, Middlesex (Project ID: 12545924). This project is the second largest in June and will consist of 14 sound stages, 4 standalone workshops, a utilities compound, ancillary substations, landscaping, associated car parking and access.
This project is already 35% complete and is due to take 18 months to finish, completing construction in July 2023.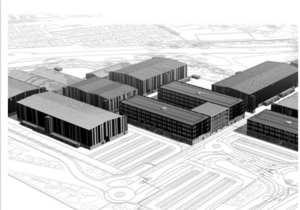 Image source : www.faulknerbrowns.co.uk
3. Aston Expressway Tame Valley Viaduct Works
The Aston Expressway Tame Valley Viaduct Works project is valued at £93.5m and is 5% complete on site (Project ID: 12476263). The scope of the works include strengthening of the steel box girders carrying the viaduct deck to enhance their carrying capacity and overall longevity, painting of the entire external and internal surfaces of the steel box girders and general refurbishment of the viaduct's deck components, piers, and abutments.
The project is due to take 57 months to complete and will be constructed by the second quarter of 2027.
Find out even more!
Using the project ID's above, Barbour ABI customers are able to simply copy the ID into the database and find out even more details about this project such as who's working on it, the materials and more!
Don't have access to Barbour ABI? Not to worry, we are so confident in our data that we provide 10 free leads of your choice. Giving you the opportunity to get ahead of projects and find out all the details you require.