After finishing a high-school baccalaureate in Romania, Cristina Turcu came to the UK looking for work. What she didn't have were any of the traditional skills applicable to a career in construction; indeed, it wasn't something she was even looking for at that time. But critically, what she did have was a hard-work ethic and the will to make the most of an opportunity. Three years later Cristina is a site administrator at Sisk having taken an unorthodox route into the industry. Importantly, she's keen to share her story – unfinished though it is – for the benefit of other women in construction.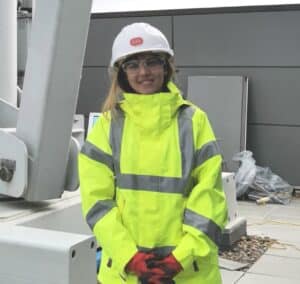 "I came to the UK in 2017 to find work and live with my friend's family. My English wasn't good and the only job I could find was as a cleaner," she says. "My friends had some experience here [at Sisk] and I was given the chance to pass a test in my own language for a CSCS card so I could clean on a construction site." While this was her first encounter with UK construction, it certainly made an impression in terms of the professionalism she encountered. "I liked how they put more [emphasis] on health and safety, which I hadn't really seen in my country, and I was impressed with how it wasn't just all about getting the work done – I appreciated this," she adds.
Fortune favours the deserving
After a fortuitous change of setting, it didn't take long for her positive attitude to get noticed. "In 2018 I stopped cleaning the sites and started cleaning [offices] and this is where Sisk saw me and appreciated how hard I worked and that I was trying to learn new skills," says Cristina. Spotting her potential, the contractor began helping to improve her English and offered the chance to start training in a role more relevant to its operations.
"Sisk said 'Cristina would you like to learn more and maybe become an assistant administrator?' I said yes! I would really enjoy the chance to change my life and have a greater opportunity with a new job," she says. "I trained for a couple of months and once I started I was placing orders [for the construction project], dealing with visitors, organising meetings, answering the telephone and trying to help people as much as I could. They have also trained me to work with [construction] control documents and they have planned for me to do fire marshal, first aid and RAMS [risk assessment and method statements] courses.
From strength to strength
But this was just the beginning. "I'm going to [complete] a construction management degree where the government pays for my first year," she says, while pointing out that in May, Sisk will be changing her contract to that of a permanent employee and will support her with day release for the continuation of her part-time course. It will also take on paying the fees from year two of the five year degree.
"I would like to finish my degree and [be certain] this is exactly for me," says Cristina. However, she's already thinking about the longer term. "I have a plan with Sisk to go onsite as a trainee assistant site manager so I will have the chance to get more experience. I wish to do a Master's degree in project construction management, but I'm still learning of course, and I need to work more on my English as this is the only thing that's holding me back.
Life-changing effect
With her first steps made, Cristina is aware that entering the construction sector has broadened her horizons and altered her life. "It's changed a lot," she says. "It's made clear that I can use my skills to achieve everything that I want. Before I was cleaning, now I try to help people manage things. I have the chance to meet different people and make a different story."
She sees a career in construction as rewarding on several different levels. "I wouldn't want to swap my job with anyone else now and I can't see anyone making me feel more confident than with this [career]. And construction is not a low paid industry. I couldn't be planning holidays or anything like that before. Now, whenever I have free time I go home to see my family in Romania because I have money." She says that on top of her own living expenses she has been able to help her sister come to the UK, as well as her brother who now works in the industry with a subcontractor in Liverpool. "I help them with skills and English and still live [for myself]," she says.
"I say that when I started work with Sisk in construction it made a real difference to my salary and helped me to live a really good [life] compared with my time as a cleaner. My sister finished a degree in Romania and I try to explain construction so that she might see if it would be good for her [too] as we are similar people," says Cristina.
Encouraging women
Having had her own eyes opened to the sector as a woman, she is an advocate for others to at least consider it. "I would say that if they would like to try something different in life then they should try a college course to see if they might like it. We really need more women in construction. It's not easy to acquire people and [women should] try different things." She scotches preconceived notions and underlines that it's not the case that you have to carry heavy loads. "It can be about management; you just have to use your brain and your skills," says Cristina.
It's not just simple talk either. Building on the fact she has already shared her experiences through Sisk's internal channels, she says she would like to have the opportunity to take part in outreach work with school students to share her experiences about what construction is really like.
While many construction companies make significant efforts to search local communities for people with non-traditional backgrounds, Cristina's story serves to highlight that talent can sometimes be found closer to home than you might think.