Economic & Construction
Market Review
Barbour ABI's Economic and Construction Market Review has been upgraded.
Snap Analysis is our new monthly snapshot review of the factors that drive the construction industry. We are giving away this report in full and completely free-of-charge to the entire construction industry every single month.
Snap Analysis is completely changing how we deliver our data to you. We've replaced the text-based approach of the past with graphs and tables to deliver the key information that you need at a pace that allows you to quickly digest and continue with your busy work day.
Powered by our market leading construction project data and edited by our team of economists this report is a valuable tool for every business linked to the construction sector.
Overview of construction activity
£80bn contract awards in 2022 is a new record
New record of £105bn in planning approvals but sector activity remains mixed
Consistent planning applications with £111bn with infastructure and warehousing maintaining momentum
Snap Analysis gives you the latest unmissable facts and figures of the construction industry at a fast, easily-digestible pace – leaving you more time to focus on winning the work that drives your business forward.
*Please note that Snap Analysis and League Tables account for only a percentage of Barbour ABI 'contract value' project intelligence.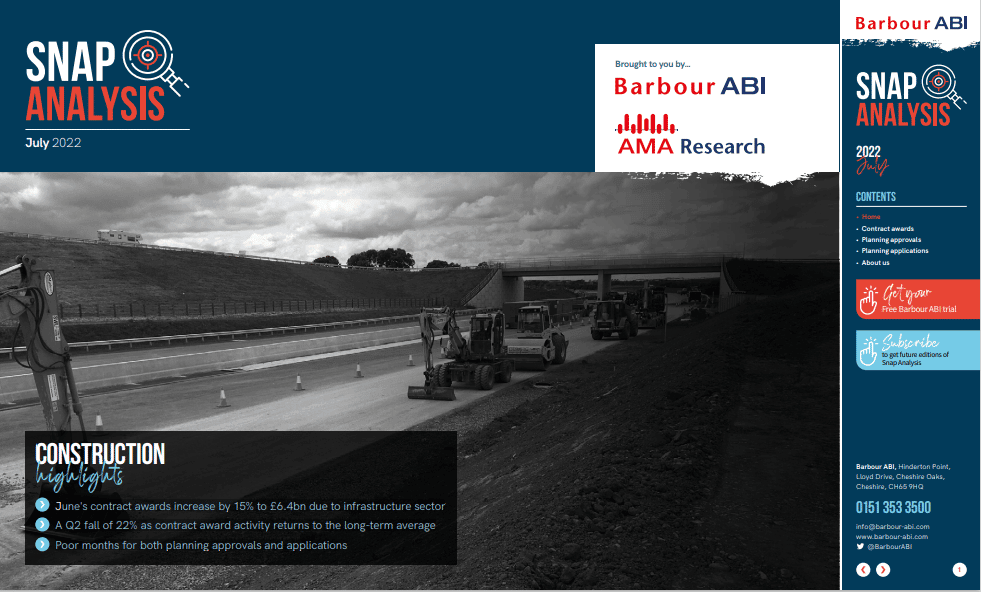 Download your
free

copy of the report today!
Why our customers

love

Barbour ABI
Since we've featured on Barbour Product Search we've had plenty of enquiries and I've been very happy with the quality of the leads received.
The Insights tool provides a detailed and manageable system of analytics that allows my work as Head of Marketing to be made quicker and easier.
Excellent promotion newsletters for our unique promenade tiles with a high percentage click-through rate and great regular assistance from Melissa and Katja.
With Barbour ABI we get precise information on the projects we target and they are constantly updated, this results in a very powerful prospecting tool and creates a devise that saves time and effort but also means we have a focused approach to new business development.
I used to use a competitor for 20 years and always thought their information was far superior to Barbour ABI's, however, I have had a big change of heart and now really rate their research and data very highly.
We have been using the data and their Evolution system for a couple of years now and find it invaluable for keeping me in touch with the latest projects and companies in our sector.
Any queries I have on projects are always answered in a timely manner. Barbour ABI helps me understand who my customers are and enables me to cut the time taken to research their details.
I would describe the service received from Barbour ABI as EXCELLENT. Our Account Manager is always available for advice, guidance and on-hand to escalate priority requests when required.
Barbour ABI gives us a wider knowledge of construction companies in the UK and gives us the opportunity to build relationships with them.