Data Driven
In September, contract awards resumed normality and achieved above average levels. There were 1,216 contracts awarded with a value of £6.1bn. According to Snap Analysis, this success was driven by commercial and warehousing projects.
However, a sector which saw drastic improvement in terms of contract awards was the Hotel, Leisure and Sports Sector. Within the sector contract awards have grown by 88%, an impressive growth, although still working back towards average levels after being so heavily affected by COVID-19.
According to Barbour ABI's data, in August the sector had a value of £199.4m in contract awards, this figure rose to £375m in September, showing the sector is getting back on its feet after a turbulent 18 months. Below is a bar chart which shows the value of contract awards within the sector month-by-month. Evidently, the sector dipped in August and resumed average levels in September after a successful 3 months from March-May 2021.

AMA Research released a report, titled Construction in the Hotel, Entertainment and Leisure Sector Report – UK 2020-2024, which focuses on the building activity within hotels, sports, health & fitness etc. Within the report it states that after Brexit the hotel sector was set to flourish. This flourish was due to the pound becoming weaker, which made UK holidays cheaper for both foreign and domestic holiday makers. AMA Research states that a spike in the hotel sector means a spike in the leisure sector, as the construction of these buildings correspond with one another.
Sports centres have also seen unexpected success during and after the pandemic. Similar to hotels and leisure centres, sports centres also had to remain closed during the pandemic. However, across the course of the last four quarters, sports centres have shown above average activity – a surprising finding considering for the majority of the pandemic they were closed.
Below is a pie chart, which shows the breakdown, by subsector, of this month's contract awards. Despite the previously spoken about success of sports centres, hotels/motels are currently dominating over half of the sector. With leisure centres taking up almost a quarter. Highlighting that both sub sectors are recovering well post pandemic.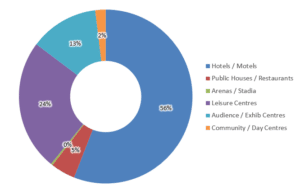 The bump in the road
The Hotel, Leisure and Sports Sector, similar to the entire construction industry, has experienced a decline in recent months. Snap Analysis highlights this decline, it shows that planning applications within the sector are fragile and the RSI (Relative Strength Index) across the entire sector is low, despite the improvement from August.
After an exceptional two years of growth, the pace eased in 2019. This was due to the politically turbulent backdrop, consisting of a general election and Brexit on the horizon. After the sector overcame that hurdle Covid hit, setting it back even further!
In the AMA report, the decline of the sector is discussed further. Currently it is forecasted that there will be a further decline of 15-17% in 2021, as consumer spending decreases in response to the recession and household budgets being under strain due to the pandemic and uncertain employment prospects. However, the real recovery is predicted to start from 2022 onwards. Understandably, the sector may take a long time to fully recover due to the pandemic having such a monumental impact on the sector and industry.
As the world is beginning to resume normality, people want to get back out there and enjoy places such as hotels, leisure centres and sport facilities. Many people are still hesitant to travelling abroad so are opting for UK staycations. A report from the BBC spoke to Steve Jarvis, who runs a cottage website which lists over 1,800 properties, and he stated that bookings are coming in thick and fast as people have confidence in UK holidays. This statement is supported by a survey conducted by The Best Western Chain, the survey included 6,000 of its UK customers and results showed that 90% feel safer going on a holiday in the UK this summer rather than abroad. Highlighting the beginning of the comeback for the sector.
A look into the future
Despite the bump in the road, the future still remains bright for the sector. The AMA Research report supports this, as within their report it states that there is a healthy pipeline of construction work over the forecast period. Which should lead to steady construction growth in the mid to long term, through major hotels, sports stadia and entertainment activities.
Output within the sector is set to flatline in 2021 and improve in 2022, with growth rates of 3-4% from 2022-2024 and is forecast to reach 8.8bn by 2024. Areas of the sector which are expected to show greater resilience include hotel chains and sports, this reflects the demand for UK staycations and the return of tourists in 2021. This finding provides hope for the sector, as although 2021 has not been as bad as predicted, 2022 should produce much better results.
Given that many hotels were closed for long periods of time and a significant proportion of hotels are older properties, there is always an opportunity to refurbish these buildings. Refurbishment usually takes places every 5-7 years and includes decorating and replacing old/tired fittings and furniture. The AMA report states there is a heightened demand for hotels to be refurbished in later years due to increased competition for sites. Along with hotel refurbishments, there are also several leisure refurbishments in the 2020-2022 pipeline, which have a potential value on £670m! Showcasing, refurbishment projects within the sector are likely to be the next big trend.
Top refurbishments
As found out above, many refurbishments are in the pipeline for the near future. The Barbour ABI platform allows you to search for any type of project in any sector, with filter tools to help you refine your search even more. A search was conducted to find out the top refurbishments, by value, in each subsector. Also, for the purpose of this month's blog, the search was filtered to only show projects which were published on Barbour ABI's platform in September.
Top Hotel refurbishment
The Plas Glynllifon (Product ID: 12369788) is a hotel in Caernarfon which is converting the existing manor house to create a 3-storey, 42-bedroom hotel.  With a value of £20m, the project is set to start in June of next year, taking 15 months to complete.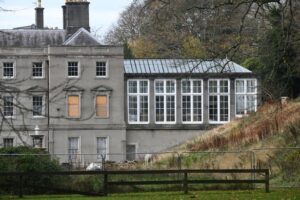 (Image source: Daily Post Wales)
Top Sport refurbishment
The top sports refurbishment on the Barbour ABI platform is the Filton Sports & Leisure Centre (Project ID: 12589275). The project is located in Bristol, South Gloucestershire and has a value of £3m. This project is a refurbishment to the existing leisure centre which will take 6 months to complete, the project will begin construction in July 2022 and finish in January 2023.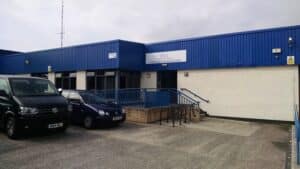 (Image source: Facilities | Filton Leisure Centre)
Top Leisure refurbishment
The £30m Theatr Clwyd Redevelopment in Mold, Clwyd is the top leisure refurbishment (Product ID: 12429180). With an enormous value, this project is the redevelopment of Clwyd theatre. The project is set to begin in the first quarter of 2022 and take 24 months to complete, finishing in the first quarter of 2024. This particular project is not just privately funded, it is partly funded by the Flintshire Council and Arts Council Wales.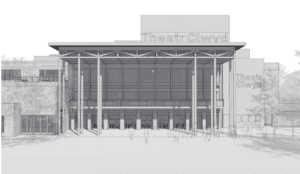 (Image source: Haworth Tompkins)
If you'd like to know more about these projects, claim 10 free construction leads to get you started on your journey today!