After a record-breaking beginning to 2022, April was the month we finally saw contract awards resume to their average levels, with a total of £5.8bn. Despite an average month for contract awards, the hotel, leisure and sport sector had a positive month with £800m. Improving by 177% since March, in large part thanks to a single £500m project. Across the month there was 102 projects, with the majority being hotels, motels and travel inns, and sports halls, centres and gymnasia both with 17 projects each. The regions which had the highest amount of projects were the South East with 21, followed by Scotland with 14, the West Midlands and London, 10 then North West with eight.
Despite the North West having a low amount of projects, this was the most successful region by value. Similarly, there was just two arena, stadia and grandstand projects in April but it was a singular North West stadium project which brought the industry its positive result.
The very well-publicised £500m project which dominated the sector due to finally being contract awarded in April was the Everton F.C. Stadium development. Take a look at this major project, and the rest of our top 3 highest value hotel, leisure and sport projects for April below.
1. Everton FC Stadium redevelopment
This £500m project is a redevelopment which will provide a new stadium, with a capacity of 52,000, for Everton FC and residential accommodation to be developed by Liverpool Mutual Homes (Project ID: 12092458). This scheme will also include the installation of a club shop and retail concessions alongside exhibition and conference facilities, food and drink concessions, a betting shop, the creation of a water channel and much more.
This project finally got contract awarded in April, after a long, well-publicised history, due to the fame and popularity of the client and sector in question. The project is now active on site, with an estimated 15% of the overall project complete. Taking 17 months to complete, the fans of Everton can expect to relocate shortly after completion in May 2024.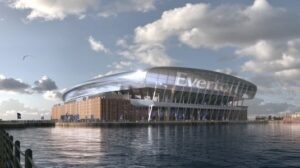 (Image source: www.meisstudio.com)
2. Palace Hotel, Babbacombe Road
Taking quite a jump down in value from Everton FC's stadium value of £500m, the second highest project by value in April is the £50m Palace Hotel (Project ID: 12453318). This major hotel will consist of 248 bedrooms and includes a ballroom, meeting rooms, business centre, treatment rooms, pool, spa gardens and more! On top of all these inclusions, the development will also include 17 three-bed, 19 four-bed and 2 five-bed houses and villas.
Also active on site with 5% of site progress complete, this project is located in Torquay, Devon and will take 35 months to complete, making the finish date March 2025.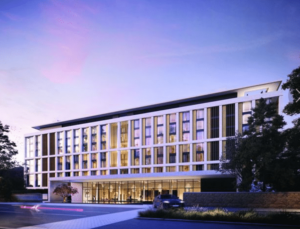 (Image source: www.kayeelliott.co.uk)
3. Corbyn Head Hotel Redevelopment
Also located in Torquay, Devon is the £24.2m Corbyn Head Hotel Redevelopment (Project ID: 12403557). This project will see the erection of a 175 bedroom hotel with an office, bar/restaurant, under croft car park and landscaping.
Construction will commence in July this year and take 17 months to complete, which will result in a December 2023 completion date.
Get even more details!
If you would like to find out more details about the above projects (or any project taking place in the UK) you can simply enter the project ID into the Barbour ABI database, if you are a customer.
Not a customer of ABI and want to find out more details, such as who is working on this project? We offer 10 free leads which gives you to access all the information, collected by our in-house research team, for 10 projects of your choice!