Smart Maps
Connect and Interact
Access your
free

Smart Map
Access the U.K's highest value new projects with our Smart Map
To keep you up to date with the hottest projects at their earliest stages, we've created a brand new Smart Map featuring the U.K.'s 25 highest value projects that reached contract award stage in April 2021.
Construction saw a very strong, positive April, with high levels of contract awards and planning applications reflecting hopes that the industry may have rounded the corner to recovery after the COVID-19 lockdowns. Access the Smart Map to see which major projects in your area are helping to spearhead recovery.
Get free access to the Smart Map now to:
Discover the highest value contract awarded projects in every U.K. region in April 2021
Identify key details, values and dates associated with each project
Stay ahead of the competition with early, actionable insight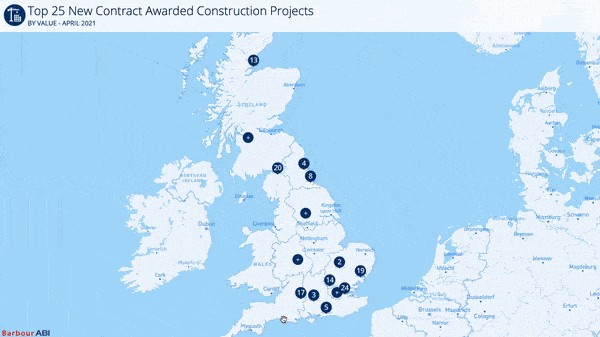 Access your smart map

free today
Why our clients

love

Barbour ABI
The volume of projects, companies and contacts on the database has helped Garic's sales team book initial meetings for projects. As a team we find it especially useful to breakdown the projects into an area, so each account manager has a select number of projects to work on.
We have been using the data and their Evolution system for a couple of years now and find it invaluable for keeping me in touch with the latest projects and companies in our sector.
The quality of service from Barbour ABI stretches from executive level analysis of market conditions, down to the Research team helping our sales team source granular project information. The way Barbour ABI deliver information to the various appropriate levels of our business has helped us to make more informed decisions and improve our go-to market plans. The offer of individual support from Barbour ABI that we've had for every member of the team, no matter where they are on their digital journey, is hugely appreciated.
Excellent promotion newsletters for our unique promenade tiles with a high percentage click-through rate and great regular assistance from Melissa and Katja.
The inclusion of key contact details has enabled me to get in touch with key decision makers and circumvent what can be a frustrating process through company switchboards.
The Insights tool provides a detailed and manageable system of analytics that allows my work as Head of Marketing to be made quicker and easier.
Any queries I have on projects are always answered in a timely manner. Barbour ABI helps me understand who my customers are and enables me to cut the time taken to research their details.
We have always received a swift, friendly and competent service from our Account Manager, who is always reachable and responsive to our email requests.
Since we've featured on Barbour Product Search we've had plenty of enquiries and I've been very happy with the quality of the leads received.